Happy freakin' Friday! Woof! This week seemed to last a lifetime, busy as (did I really just type ass? It doesn't look like it but I did - then deleted it. Cause well.. that's inappropriate but fully sums up that I seriously Friday couldn't have come at a better time) always but .. oh jeez let's just get on with it!
This Friday I am going to theme-it-up with five of my favorite fall shows right now! My DVR is swamped with shows and sometimes I have to pull the ole switcharoo because too many shows are recording at once but thankfully it is all there, waiting for a rainy day for my to sit and binge watch.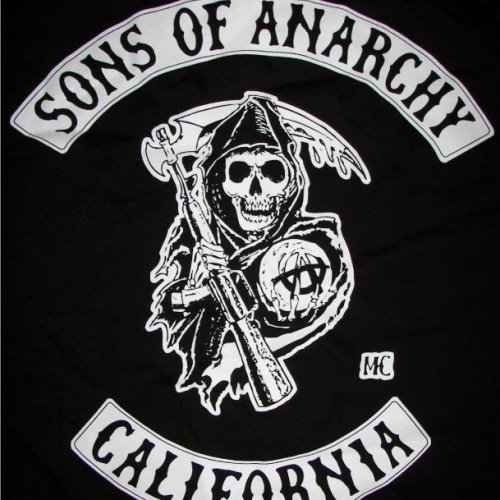 one :: Sons of Anarchy. Swoon. I have been watching this show since Season 1 Episode 1 and I can't even begin to tell you how sad I am that this is the final season. It is one of those shows that you think to yourself, can things get any worse for these people - and it always always does! It is a little graphic and you do see some ta-tas and Charlie Hunnam's beautiful behind, but you really do fall in love with some of the characters and it is a perfect blend between action, drama, and love.
two :: American Horror Story. This is another biggie I started watching from the beginning and I can't seem to stop. The season started Wednesday night and it is patiently waiting for me to press play! Each season is a different American urban legend horror themed story - hence the name of the show. Le duh! It is not scary either. I think people assume from the title it is a crazy horror film type show, but it's more intriguing and creepy than anything. I am still sticking with Season 1 was my favorite season so far but they are still pulling me in and I am still watching. I can't wait to see what Season 4 is all about - Freak Show!
three :: Nashville. Let's lighten things up a bit shall we? I love all things country! I have always wanted to move to Nashville and when this show started I knew I had to go! I did - it was amazing. Anyways, this show is the perfect mix of drama and country music. No matter what is going on with the characters, they always remember to go back to the music. When I first heard this show was coming out I had to watch, for Connie Britton. I have been a fan of hers since she was in Friday Night Lights - the TV show and I have loved her since then (She was also in Season 1 of American Horror Story). This show gets 5 stars and I can't wait to see what happens with everyone this season!
four :: The Walking Dead. This will be starting on Sunday and I am so excited! I feel like it hasn't been on in forever!! Now a days, people are all ampt up on this zombie apocolpys that is bound to happen. Glad I payed attention to this baby to teach me how to survive! Kidding. But it still is a good show. Last season was kind of a dead beat, so I am hoping that this season they can pick it back up again cause it really is a good one.
five :: Gotham. I had zero ZEE-ROOO interest in watching this show - at all. I was actually on the computer checking emails and such and my dad had it on in the background. Instantly hooked! It is only a few episodes in and I am sure you can watch online or on demand to play catch up. I am not a huge superhero fan and probably haven't seen a superhero movie in years but I do have to say if I had to chose one I actually knew most about it would be batman. Not to give too much away, and because there isn't too much to tell yet, this show takes place in Gotham obviously, but it is waaayyy before the days of Batman. It's all back stories with the same Gotham drama! Seriously you need to check this one out!!

And there ya have it! So go cuddle up on the couch on a cool fall night with a pumpkin flavored anything and watch some great shows!!
And have a great weekend! :)